IELTS books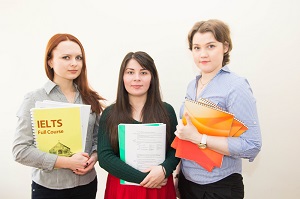 IELTS tests your level of English language proficiency.
There are many programs, courses and exercise books that can help you to achieve score as high as possible on the IELTS exam day. Among the most popular course books such best-sellers can be named:
These IELTS preparation books can be used both in class and at home. To pass the exam your English level must initially be Upper Intermediate and higher. Such necessity is explained by the need to perform well in such sections of the test as Reading, Listening, Writing and Speaking.
There are many IELTS preparation training methods and techniques. One of the most pleasant is reading books and watching movies in English – in order to get used to the language and pronunciation. This stage in the preparation process is certainly nice and enjoyable but it's not enough. You can surely prepare by yourself but you must understand that these techniques are applicable and effective only for such sections as Reading and Listening. Writing and Speaking sections definitely require tutor's advice and recommendations. IELTS preparation courses online could be an option but preparation for IELTS with a tutor would be preferable in this case.
Top tips and personal advice for IELTS preparation from recent test takers:
IELTS test preparation in a group is another alternative. It particularly helps you with getting used to discerning various accents. IELTS questions in the Listening section of the test might also be tricky. Moscow offers many IELTS learning opportunities. IELTS prep company can propose both group and individual preparation for IELTS and IELTS practice with experienced tutors.
IELTS test preparation requires a clear and intelligent strategy. It's essential to consider all sections of the test paying special attention to the most challenging for you personally.
A well-planned preparation is a key factor for scoring high on the IELTS exam day.
IELTS preparation requires time resources. Time-management is extremely important. First, you should allow yourself enough time to study for IELTS. And second, organize it in such a manner so that it is effective indeed.